HEALTH INSURANCE
HRA
Provider
Customer Service: 877-236-0844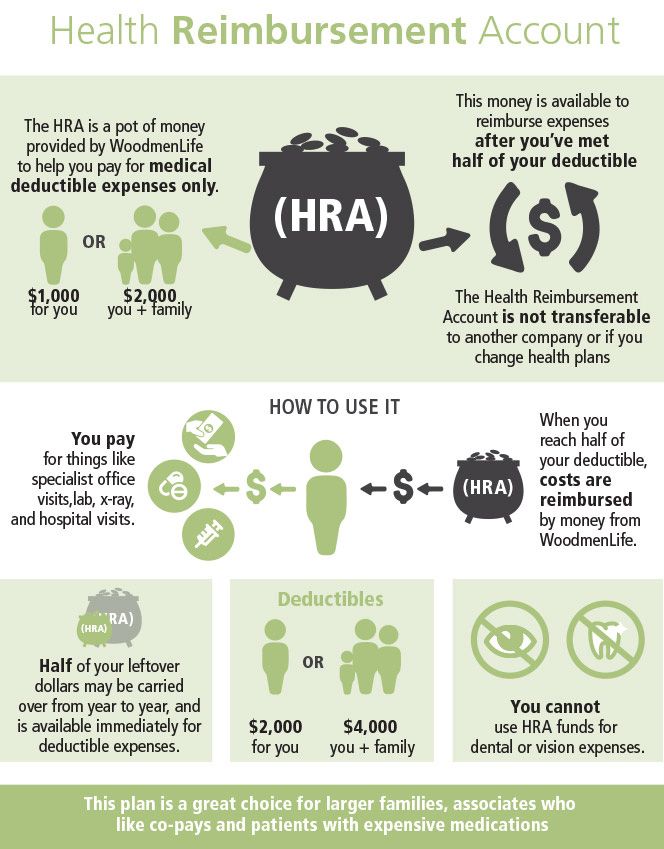 Reimbursement
Reimbursement can be requested for the second half of the deductible, excluding co-pays and prescriptions. To file a reimbursement claim, download the form. To file a claim, fax a copy of your most recent Explanation of Benefits (EOB) from Blue Cross and Blue Shield along with a completed claim form to 920-968-4616. If you would like to receive your reimbursement via direct deposit, please also fax the completed direct deposit form. If the claim is filed by Friday, the reimbursement will be processed by the following Friday.
Eligibility
Available to those enrolled in the Select HRA Plan
Tools
How it Works
After the health claim has been processed by Blue Cross and Blue Shield, the second half of the deductible can be reimbursed from the Health Reimbursement Arrangement (HRA).
Benefit Details
WoodmenLife provides $1,000 for an associate only, and $2,000 for an associate plus coverage.

If you enroll in this benefit after the calendar year has begun, the amount WoodmenLife contributes to your account will be prorated.

These funds are available once you've reached half of your current year deductible. All claims for reimbursement must be filed by March 31 of the following year.

If you were enrolled in the Select HRA in the prior year, half of the available balance will be rolled over. Rollover funds are available after April 1.
Cost
Paid by WoodmenLife