History
WoodmenLife's Storied History
On June 6, 1890, Joseph Cullen Root founded WoodmenLife in a small hotel room in downtown Omaha. Root had the simple idea of making life insurance available to everyone.
We're proud of our fraternal heritage and our long-standing history of financial strength. We're inspired by our founder's vision of what WoodmenLife could mean to American families, and humbled by the extraordinary organization we've grown to be these last 125-plus years.
Here we'd like to share highlights from each decade of WoodmenLife's history. You can flip through this historical montage in chronological order, or click directly on the decade that interests you the most.
1891
WoodmenLife's first death claim was paid to the mother of a 19-year-old drowning victim in Niles, Michigan.
1898
WoodmenLife had more than 88,000 members from all over the country.
1900
WoodmenLife chapters contributed more than $13,000 to hurricane and tidal wave victims in Galveston, Texas.
1903
In Jacksonville, Florida, member J.M. Taylor organized the first Boys of Woodcraft unit in 1903.
1912
A new WoodmenLife building opened at the corner of 14th & Farnam in downtown Omaha and it was the tallest structure between Chicago and the Pacific ocean at the time.
1915
Membership surpassed 750,000.
1921
The first cash refunds were paid to members, totaling $1,250,000.
1923
Radio station WOAW made its first broadcast on April 2nd.
1934
WoodmenLife Treasurer and U.S. Senator Morris Sheppard sponsored legislation to establish Federal Credit Unions, and Home Office associates received Credit Union Charger No. 16.

WoodmenLife chapters donated more than $160,000 for food clothing, medical supplies, fuel and general relief during the Depression.
1940
On June 6, WoodmenLife honored its 50th anniversary with a week-long celebration, including a parade, a service at founder Joseph Cullen Root's grave and a special network radio program carried by more than 100 stations.
1947
WoodmenLife's patriotic program began. Since then, more than 3.5 million American flags have been presented to non-profit and community organizations.
1953
WoodmenLife established an award that still recognizes conservationists and environmentalists to this day.
1958
The slogan "The Family Fraternity" is adopted.
1966
WoodmenLife exceeded $1 billion of insurance in force.
1969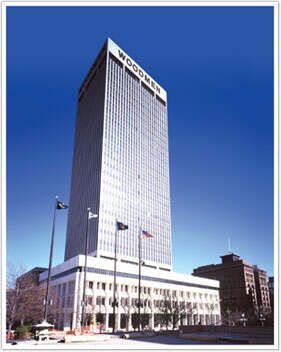 The 30-story WoodmenLife Tower was dedicated.
1970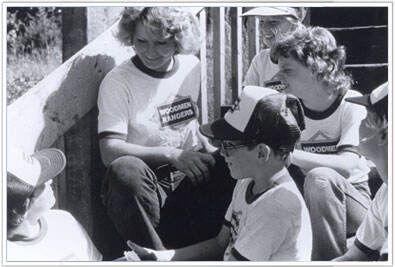 WoodmenLife reached $2 billion of insurance in force.
1973
The Catastrophic Illness Benefit was created in 1973, which gave financial assistance to members with leukemia, a brain tumor, lung cancer or tuberculosis. This benefit was retired in 2017.
1983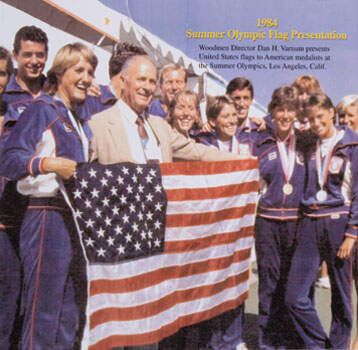 WoodmenLife introduced its Adjustable Life product.
1986
WoodmenLife's Adjustable Life product was rated best in the nation by a leading consumer magazine.
WoodmenLife was the first insurer to provide its entire Sales Force with laptop computers.
1997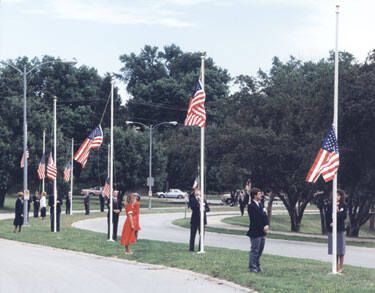 WoodmenLife celebrated the 50th anniversary of the patriotic program, which in addition to presenting American flags, now includes American History Awards to middle and high school students.
1998
WoodmenLife and the American Red Cross formed a partnership that led to the creation of more than 1,000 member-led Disaster Action Teams. WoodmenLife donated more than $1 million to the Red Cross in subsequent years.
2001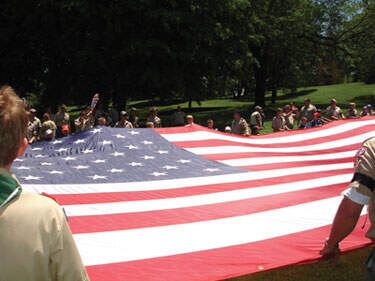 WoodmenLife responded to the tragic events of September 11 by creating a special tribute called "In Honor and Remembrance". The memorial ceremony has been performed by thousands of members all over the nation on every 9/11 since. The fifth anniversary of the attacks was observed by two "towers of light" and two flags draped down the sides of the WoodmenLife Tower.
2002
Members were introduced to Woodmen Financial Services, Inc. (WFS), a subsidiary formed to provide members a wider range of financial products, including mutual funds, variable annuities and college savings plans.
2004
A second subsidiary, Woodmen Insurance Agency, Inc. (WIA) was formed. WIA was created to provide members outside WoodmenLife offerings, including disability and health insurance, personal insurance lines, and commercial insurance lines.
2010
Life insurance in force surpasses $35 billion.
2013
WoodmenLife powered a nonprofit dedicated to providing fundraising support online.
2015
Woodmen of the World implements new branding as WoodmenLife, with a new logo and the tagline Standing Strong for Generations.

Our National Community Focus of fighting hunger is introduced. Members of the WoodmenLife family have since held food drives, planted community gardens and stuffed backpacks in their hometowns on an ongoing basis. The effort has resulted in more than 900,000 pounds of food collected and more than $1.4 million raised.
2016
Our Life's Perks® program begins offering members of the WoodmenLife family discounts at more than 30,000 national and local retailers.

The WoodmenLife Focus Forward Scholarship Program® launches, offering nearly $1 million in scholarships to colleges, universities and trade schools each year.
Throughout our history, WoodmenLife has merged with five other fraternal benefit societies. The last took place in July 2001 when The Neighbors of Woodcraft became part of the WoodmenLife family.