Big Money
The money making possibilities are endless at WoodmenLife:
Get paid for the work you do, not the hours you put in

Bonuses: Initial Training Completion, First-Year, Quarterly, Sales Challenges

Opportunities to earn licenses to sell additional insurance products and securities through our subsidiaries

WoodmenLife@Work: work with small business owners to sell voluntary products to their employees

Additional rewards including expenses-paid, high–end incentive trips and advanced training reserved for top performers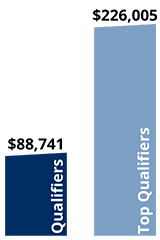 On average, our successful Representatives (those meeting contract requirements, eligible for benefits and qualifying for our Incentive Trip) earn the averages represented annually (as of Dec. 31, 2015). You can make even more with bonuses and by selling more products through our subsidiaries!

Contact your Recruiting Sales Manager to learn more about available bonuses and qualifications.
Financial Assistance
WoodmenLife understands that it takes time to get acclimated to commission-based income. That's why we offer financial assistance to qualifying new Representatives through various programs designed to cushion the transition and help you meet your financial obligations.
If you are interested in financial assistance, contact your Recruiting Sales Manager to get started.
Get Started Now!